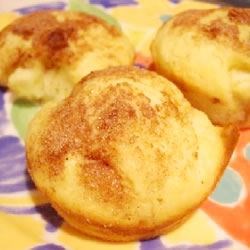 Ingredients
2 cups all-purpose flour
4 teaspoons baking powder
1 pinch salt
1/2 cup sugar
2 eggs, lightly beaten
10 tablespoons butter
1 tablespoon lemon zest
1 teaspoon lemon juice
1 cup milk
1 large Granny Smith apple - peeled, cored and chopped
1 tablespoon sugar
1 teaspoon ground cinnamon
Directions
Preheat oven to 425 degrees F (220 degrees C). Grease 12 muffin cups.

In a bowl, sift together the flour, baking powder, and salt. In a separate bowl, cream together the 1/2 cup sugar, eggs, butter, lemon zest, lemon juice, and milk. Mix the creamed ingredients into the flour mixture until evenly moist. Fold in the apples. Spoon into the prepared muffin cups.

Mix the 1 tablespoon sugar and cinnamon, and sprinkle over the tops of the muffin batter.

Bake 15 minutes in the preheated oven, or until a toothpick inserted in the center of a muffin comes out clean. Cool 1 to 2 minutes before turning out onto wire racks to cool completely.