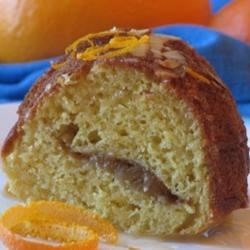 Ingredients
Streusel:
1 cup packed brown sugar
1 cup sliced almonds
1/4 cup all-purpose flour
3 tablespoons butter, melted
1 teaspoon freshly grated orange zest
Cake:
1/2 cup butter, softened
1/2 cup white sugar
3 eggs
1 teaspoon freshly grated orange zest
1/2 teaspoon vanilla extract
2 cups all-purpose flour
1 teaspoon baking powder
1 teaspoon baking soda
2/3 cup orange juice
Glaze:
5 teaspoons orange juice
1 cup confectioners' sugar
Directions
Preheat oven to 350 degrees F (175 degrees C). Grease a 9 inch tube pan.

In a medium bowl, mix brown sugar, almonds, and flour. Stir in butter and 1 teaspoon orange zest, and set aside.

In a separate medium bowl, thoroughly beat together butter and sugar with an electric mixer. Mix in eggs one at a time. Beat in remaining teaspoon orange zest and vanilla extract.

In a large bowl, mix flour, baking powder, and baking soda. With an electric mixer set to Low, alternately mix in egg mixture and 2/3 cups orange juice to make a batter. Spoon 1/2 the batter into the prepared 9 inch tube pan. Top with 1/2 the brown sugar mixture. Cover with remaining batter, and top with remaining brown sugar mixture.

Bake 25 to 35 minutes in the preheated oven, until a toothpick inserted in the center comes out clean. Turn out onto a wire rack to cool.

Mix 5 teaspoons orange juice and confectioner's sugar in a small bowl, and use to glaze the cooled cake.