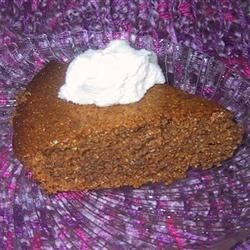 Ingredients
4 cups rye flour
2 teaspoons baking soda
1/2 teaspoon salt
1 1/4 cups buttermilk
1 1/4 cups packed brown sugar
1 cup white sugar
1/2 cup light corn syrup
1/2 cup molasses
2 eggs
1 tablespoon anise seed
1 tablespoon melted butter
Directions
Preheat an oven to 350 degrees F (175 degrees C). Grease 3 small loaf pans.

Combine rye flour, baking soda, salt, buttermilk, brown sugar, white sugar, corn syrup, molasses, eggs, anise seed, and melted butter in a large bowl, and mix well.

Scrape the batter into the prepared loaf pans, and bake in the preheated oven until a toothpick inserted into the center comes out clean, about 45 minutes. Remove pans from the oven, and cool on their sides for about 15 minutes before loosening the sides of the loaves from the pans. Remove the loaves, and finish cooling on a wire rack.